Sundarban Tour Package
Best Sundarban Tour Packages with 1 Night/ 2 Days, 2 Nights/ 3 Days, 3 Nights/ 4 Days, 5 Nights/ 6 Days & Tour Guide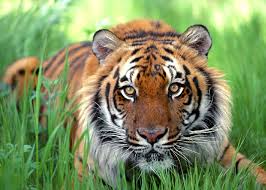 If you are planning to treat yourself this holiday season, opting for our Sundarban Tour Package with 1 night/ 2 days, 2 nights/ 3 days, 3 nights/ 4 days, 5 nights/ 6 days tour at Naturecamp Travels can indeed be one of your best travelling decisions ever. You can embrace the glory of this beautiful place while we make it a point to ensure that the trip helps you in creating memories for a lifetime.
Situated in the state of West Bengal, Sundarban is home to the only mangrove forest in India. Since the name Sundarban means Sundar (beautiful) and ban (forest), it can be translated as "a beautiful forest". It is believed that the place has derived its name from Sundari trees which are found here in abundance. Being declared as a UNESCO World Heritage Site, the place attracts thousands of tourists every year, from various parts of the world.
Sundarban Tour Package : When Is The Best Time To Opt For This Package
Being in a close proximity to the Bay of Bengal, Sundarban witnesses heavy rainfall and thunderstorms during the monsoon. Visiting this place during the rainy season (July- September) is thus not advisable. It is even best to avoid travelling during the summer season (March-July) since tourists can experience humid climate during this period. Opting for a tour package in the winter, i.e. the period from the end of October to early March can thus be a wise decision.
Places To Visit In Sundarban
Our Sundarban Package Tour includes the various renowned destination like:
Jhingamari Watch Tower
Bonnie Camp Watch Tower
Bhagabatpur Crocodile Park
Kumirmari Watch Park
These towers offer the visitors a wide view of the beautiful landscape of Sundarban.
Other Things To Do in Sundarban
Visit a local school or have a walk in the nearby village.
Relish the entertainment provided by the Jhumur (Tribal) dance.
Become part of a crab catching expedition.
Soak in the beautiful landscape.
Sundarban Tour Packages From Kolkata
2 Nights/ 3 Days:
Day 1: Pick up from Kolkata and transfer to Godkhali/ Sonakhali boat departure for resort via Gosaba and Sajnekhali. Visit Gosaba, Sajnekhali watch tower and temple. Night stay at our resort.
Day 2: After breakfast departure by boat for sightseeing - visit 2 watch tower, Dobanki and Sudhankhali. Enjoy short walk into the forest and viewing different type of birds, crocodile and spotted deer. Back to the hotel after boat ride. In the evening camp fire with snacks and tea (winter season). Night stay at resort.
Day 3: Breakfast at resort and local village tour by walk. Departure by boat for Godkhali/ Sonakhali and transfer to Kolkata by car. Tour end Sundarban.
1 Night/ 2 Days:
Day 1: Pick up from Kolkata and transfer to Godkhali/ Sonakhali boat departure for resort via Gosaba and Sajnekhali. Visit Gosaba, Sajnekhali watch tower and temple. Night stay at our resort.
Day 2 : Breakfast and departure by boat for Godkhali/ Sonakhali via 2 watch tower, Dobanki and Sudhankhali. Enjoy short walk into the forest and viewing different type of birds, crocodile and deer. Transfer to Kolkata by car. Tour end.
Sundarban with Kolkata Luxury Tour - 5 Nights/ 6 Days:
Day 1: Pick up from Airport or Railway station and transfer to Hotel. Night stay.
Day 2: Full day Kolkata sightseeing, Visit Princep Ghat, Tagore House,
St. Paul's Cathedral, Victoria Memorial Hall. Night stay at Kolkata.
Day 3: Transfer to Godkhali jetty. Gateway of Sundarban. Transfer to our jungle resort via Gosaba and Sajnekhali watch tour. Night stay at our resort.
Day 4: After breakfast ready for sightseeing, visit watch tower at Dobanki, one of popular watch tower at Sundarban. Enjoy canopy walk way. Visit different creeks inside dense forest, after lunch enjoys village life of Sundarban. Night stay at jungle resort.
Day 5: Visit Sudhanyakhali watch tower. Visit Sarakhali, Bonbibi, Banbibi Varani and different island. Transfer to Kolkata.
Day 6: Transfer airport or railway station. Tour end.
Sundarban Birding Tour : 2 Nights/ 3 Days:
Day 1: Pick-up from Kolkata and transfer to Godkhali jety. Departure for Bali Island, one of beautiful village of Sundarban. Night stay at our Eco Camp.
Day 2: Early Morning Village Walk, You can find different bird like Small Minivet, Mangrove whistler, Grey-headed fishing eagle, Asian openbill stork, Lotens Sunbird, Baya Weaver, Lemon-rumped warbler etc. Back to camp and visit Dobanki, experience canopy walk at Dobanki. Visit deep inside the jungle with our experienced guide and naturalist. Night stay at our camp.
Day 3: Visit Sarakhali, Bonbibi Varani, enjoy different island, explore with our guide and transfer to Kolkata via Godkhali/Sonakhali.
Sundarban Luxury Cruse: 3 Nights/ 4 Days:
Day 1: Arrival Vivada Jety in millennium park .Only 60 Minutes from Airport and 20 Minutes from Howrah Railway station. Check in at the MV paramhasa. Sail for Sundarban. World largest Mangrove forest. Reach Namkhana.
Day 2: Early morning enjoy scenic beauty of Sundarban. Afternoon visit Mangrove Forest by walk. Also visit Crocodile project on Bhagabatpur Island. Night stay at MV Paramhasa.
Day 3: Early morning visit the Nethidopani watch tower. After breakfast enjoy extensive creek of Mangrove Forest. Later guests will visit Dobanke, Deer rehabilitation center.
Afternoon visit wildlife watch tower at Sudhayanakhali, one of popular Watch tower of Sundarban.
Day 4: Spend Morning at Bali Village. A tripical Sundarban Village, enjoy Village life of Sundarban. After breakfast transfer to Kolkata jetty by surface (4 Hour). Tour End
Jharkhali(Sundarban) 2 Night/ 3 Days:
Day 1: Pick up from Kolkata and transfer to Jharkhali, one of wild destination of Sundarban Area. Lunch will be served around 1.30 PM. Evening visit Jharkhali Watch Tower, Jharkhali ghat and local market. Night stay at Jharkhali.
Day 2: After morning tea visit Sajnekhali Watch Tower, Sudanyakhali and Donbanki, enjoy Canopy Walk at Dobanki. Night stay at Jharkhali.
Day 3: After bed tea enjoy village tour at and local area by walk. After lunch departure for Kolkata.
Our Resort/ Cottage at Sundarbans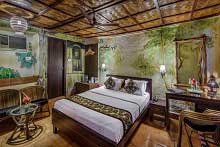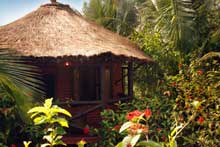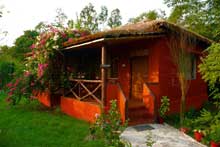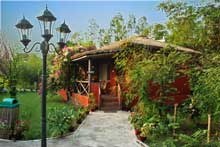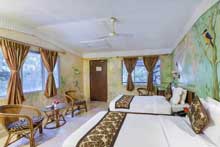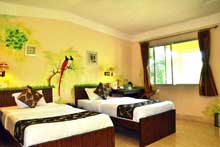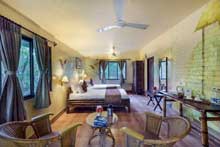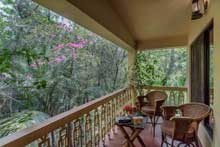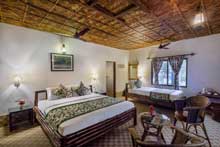 Resort Activities and Outside Activities at Sundarban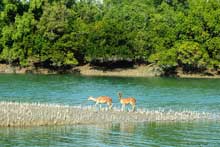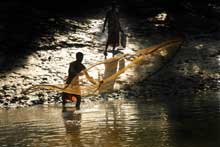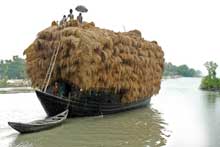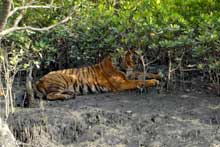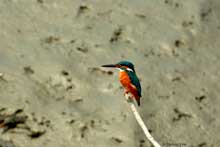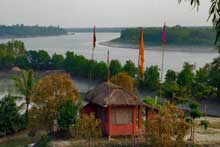 Banani Resort at Sundarban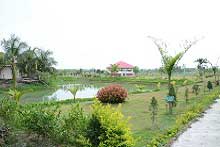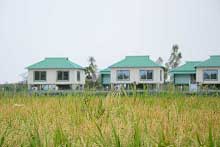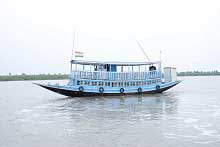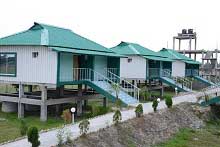 Our Services Include:
Accommodation facilities in the best resorts and hotels.
Excellent breakfast and other facilities.
Great transportation facilities.
Tour operators who offer complete trip management.
Beautiful sightseeing- inclusive in our Sundarban Holiday Tour package.
Why Choose Our Sundarban Tour Package from Kolkata?
Customised holiday packages offered at affordable prices for visitors to choose from.
100% track record of client's satisfaction.
Provide everything you might require during the journey.
Wide range of tour packages to suit our clients' individual preferences.
Assorted holiday packages which comprise of beautiful sightseeing and various essential activities.
Affordable packages to suit every traveller's budget.
Packages inclusive of all service taxes to help you make the most of your trip.
Exclusive packages inclusive of luxuries you deserve.
Our Best Resorts Or Hotels Offer
First-class accommodation in deluxe hotels and resorts.
Premium quality accommodation along with exceptional services.
Various modern and luxurious amenities for the convenience of the tourists.
Easy availability of breakfast, lunch and dinner.
Medical team for all sorts of emergency assistance.
In-room dining, restaurant, open space and various other facilities.
Precautions While Travelling
Should carry basic medication like- septic cream, band-aid, medicines for stomach upset, cold and all your medicinal needs.
Must carry a torch, sleeping bags and other essential things.
Need to carry light food like fruits, chocolates and snacks.
Instead of drinking tap water, prefer coconut water or filtered water.
Reasons To Visit Sundarban
Officially declared as a UNESCO World Heritage Site, a trip to Sundarban can be your ideal getaway. Choose our Sundarban Holiday Tour package at Naturecamp Travels to visit the dense forests of Sundari Mangroves, spot the Royal Bengal Tiger, enjoy exciting boat rides and the rich biodiversity of Sundarban.
Luxury Boat Rides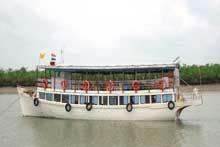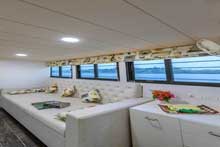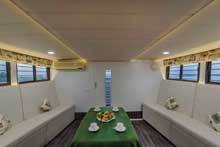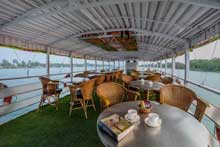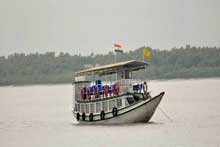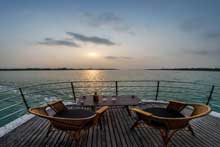 How To Reach Sundarban?
By Flight

Airways can be one of the most efficient means to reach Sundarban. The nearest airport is Netaji Subhas Chandra Bose International Airport in Kolkata which is just a 3 hours drive from Sundarban.

By Rail

Board a train from Sealdah to reach Canning within 1 and a half hour; the nearest railway station of Sundarban. From Canning, take a ferry to reach your destination.

By Road

Sundarban is connected to Kolkata by a well-laid roadways network. You can either hire a private car or a public transport.
Why Should You Visit Sundarban?
Sundarbans is popularly regarded as a land with rich biological diversity. Be it the lush green and wild mangrove forest or the salty river bed, Sundarban forms to be the paradise for every traveller. During your Sundarban tour, you can spot various popular mangrove species like Champa, Sundari, Hatal, Garjan, Genwa, Kankra, Golpati, Keora, etc.
Other than the mangrove forest, the Royal Bengal Tiger forms to be the main attraction during your trip to Sundarban. Along with the majestic Royal Bengal Tiger, you can even spot other wildlife species like spotted deer, saltwater crocodile, wild boar, leopard cat, fishing cat, water monitor lizard, common otter, olive ridley turtle, jungle cat, monkeys, green sea turtle, etc.
Another reason why nature lovers will instantly develop a liking for this beautiful place is that Sundarban is a plastic-free zone. You can even read 'The Hungry Tide' by Amitav Ghosh to get an idea of the happiness you can derive from this beautiful place. Exploring the immense beauty of this place by booking our Sundarban tour packages from Kolkata can thus be much more than that which meets the beauty of eyes.
Why Is Staying Safe Vital?
Being home to man-eater tigers, staying safe during your Sundarban trip is essential. While it's true that they do not enter the areas habituated by humans usually, these tigers actively search for human beings to feed themselves. Moreover, by opting for our tour package, you can stay assured of your safety during the Sundarban trip.
Our trained agents leave no stone unturned in ensuring that no harm is caused to our tourists during their trip. Our boats even have a sufficient number of life jackets to ensure the safety of our tourists. We even advise travellers to carry a good sunscreen lotion and hat for making the most out of our day tours.
Why Choose Naturecamp Travels For Sundarban Package Tour?
We are certified and registered tour and travel operator providing best Sundarban Package Tour.
All services taxes are included in the package so that all your concentration is on enjoyment.
Exclusive packages for winter and summer holidays.
Travel at your own pace and stay at the hotel of your choice.
Affordable packages so that you can explore the beauty of Sundarban with your near and dear ones.
Fulfill your dream of enjoying a customized holiday package.
Always aim at delivering the luxuries you deserve.
We offer both family and small group tour packages.
We cover all the major places in Sundarban.
Luxury hotels and resorts.
Provide best transportation.
24x7 assistance and assure medical emergency.
Affordable price.
Few Points to Keep In Mind before Visiting Sundarban
Carry hats, sunglasses and sun tan lotion during your trip. Wear light cotton dress and wear tied shoes like gumboots.
Carry Binoculars to view distant landscapes and animals.
Maintain peace when you are watching animals during to your Sundarban Trip.
Avoid sound systems & loud speakers during trip.
Don't harm near flora and fauna during Sundarban Tour especially in national park. Do not disturb the animals during Jungle Safari.
Alcohol is strictly prohibited in Sundarban.
Do not carry plastic bags, plastic bottles, and chips packets inside core Sundarban area
Keep your place clean and do not pollute the water by throwing anything from the boat.
Enjoy Your Trip!
Reviews:
Arun Kumar Singh
★★★★★
"Nice experience traveling with them. Very helpful and prompt in service. Wish them best of luck."
Piku G
★★★★★
"Good experience with Nature Camp Travels. Well organised.I have had no issues on my trips. They have delivered as promised on all fronts.I must thank Mr. Shaibal for making our tour memorable."
Arijit Basu
★★★★★
"It was great experience for my Sundarban trip with Naturcamp Travels. Overall my tour is memorable and package is reasonable. Planning for next tour..."
Tanmay Chakraborty
★★★★★
"My Sundarban trip was amazing. We were picked up from Kolkata and enjoyed this trip nicely. Thank you Naturecamp Travels."
Sudipta Roy
★★★★★
"Amazing and memorable experience. Nice Trip arranged by Naturecamp Travels with proper guidance. Food and accommodation is excellent."