Opt For The Best Maldives Tour Package From Kolkata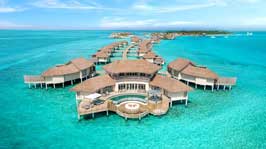 Thinking about spending some quality time with your loved ones amidst the splendour of Mother Nature? Are you on the lookout for international travel destinations to embark upon a soulful journey of love? What better to relax than at the tropical paradise of Maldives! Naturecamp Travels is here to offer you enthralling Maldives tour package from Kolkata for a memorable travel experience.
Maldives is beautifully painted in strokes of blue and green with new shades of turquoise and aqua. It is a picture-perfect holiday destination for capturing beautiful memories of new beginnings. With its iconic natural significance and remarkable sceneries, you can be assured that opting for a Maldives holiday package will not disappoint you. This tropical land is famous for crystal clear waters, ring-shaped coral reefs, mesmerising views and white sand beaches.
Maldives Tour Package From Kolkata: Trip Itinerary
Day 1: Arrival & Leisure Day
Once you arrive at the Male International Airport, you will meet our representative who will greet you. You will be escorted to a top-quality hotel for an enchanting stay throughout your trip. Check-in and relax to get rid of the tiredness of the long journey from Kolkata. Later on, enjoy the rest of the day completely at leisure while enjoying tranquil views of the sandy beaches. It will be an overnight stay in the hotel.
Day 2: Embark On A Mesmerising Adventure
Wake up to wholesome breakfast and gear up for embarking on an amazing adventure with your beloved ones. Start your day by hopping on a traditional Maldivian Dhoni for reaching the enchanting Sandbank. You will embark on a fantastic snorkelling trip for catching glimpses of the most vibrant and colourful reefs worldwide. Later on, proceed for a local island tour exploring the striking attractions and charms. This will be followed by a scrumptious lunch.
Afterwards, you will head for a splendid Dolphin trip for witnessing them in action amidst the Indian Ocean. As the day comes to an end, return to your hotel for a cosy overnight stay.
Day 3: Explore Male- The Vibrant Capital City
You will spend the 3rd day of Maldives tour package from Kolkata by exploring Male. After enjoying a tasty breakfast, we will take you for a memorable tour of Maldives' lively capital city. A great way to kick-start your day will be by exploring local markets and the jam-packed fish markets. Next, you will be taken to the Sultan Park, Presiden's Palace and the Friday Mosque. You can even choose to tour the Museum afterwards.
After enjoying a hearty lunch, take a public ferry to Villingili. You can either take a bath in the white sandy beaches or enjoy a fun session of snorkelling. Later, proceed to a local cafe and enjoy some Maldivian snacks. As the evening approaches, we will take you back to Male. Get a comfortable sleep at night in your hotel.
Day 4: Witness The Beautiful Underwater World
Once you have a delicious breakfast, head out for an unforgettable day. We will take you in a Whale submarine to unravel the mysteries of the deep ocean. You will embark on a beautiful underwater journey for witnessing colourful coral reefs and unique marine species. Spending both the morning and afternoon drive with your near ones will be experience of a lifetime. Later, return to your hotel for an overnight stay.
Day 5: Relax & Rejuvenate Yourself
Gorge on a lip-smacking breakfast and get ready for an entire day of complete rejuvenation and relaxation. Enjoy the 5th day of your trip absorbing the unrivalled beauty of Maldives relaxing with our comprehensive Maldives tour package from Kolkata. You can laze around the pristine beaches while swimming in the blue water or listen to the waves. Go for a yummy culinary journey or engage in some exciting water activities. Once the day comes to an end, return to the hotel for a peaceful night's sleep.
Day 6: Departure To Return Home
After enjoying a hygienic breakfast, get ready and check-out from hotel. You will head back to your home in Kolkata from the Male International Airport. As you depart from Maldives, you will have memories to cherish for a lifetime.
Maldives - The Ideal Honeymoon Destination
More and more couples book mesmerising Maldives tour packages for their honeymoon vacation. Known as the Paradise on Earth, Maldives is a conglomerate of almost 1190 islands. The Maldivian Islands are scattered in the middle of the Indian Ocean. The crystal clear blue water, sandy beaches, colourful coral reefs and shallow lagoons make Maldives the perfect honeymoon destination.
Must-Visit Places In Maldives
Some of the most popular tourist attractions in Maldives are-
Male Island
Baros Island
COMO Cocoa Island
Fihalhohi Island
HulhuMale Island
Tsunami Monument
Emboodhu Finolhu Island
Maafushi Island
Majidhee Magu
Perfect Time To Visit Maldives
The ideal time to book an affordable Maldives tour package from Kolkata is the months of December to April. During this time, you will be able to spend some memorable moments under dazzling sunlight and blue sky.
Why Choose Naturecamp Travels For Maldives Tour From Kolkata?
Leading and trusted travel agency
All-inclusive holiday packages
Customised Maldives tour package to suit your preferences
A long list of highly pleased customers
Premium quality accommodation in first-class hotels
Excellent transportation facilities
Hygienic and scrumptious meals
Assorted tour packages at affordable rates
Guaranteed satisfaction for peace of mind
Maldives Holiday Packages: Inclusions
Welcome drink once you arrive
Pick-up and drop-off from the airport
Delicious meals (breakfast, lunch and dinner)
Convenient accommodation in top-rated resort/hotel
Hotel taxes
Tours and transfers mentioned in the package
Maldives Holiday Packages: Exclusions
Expenses and payments of personal nature
Meals and beverages other than those specified in the package
Sightseeing other than what's mentioned in our package
Entry fees or payments for camera or video permit
Insurance charges
Maldives Tour Packages From Kolkata: Common FAQs
Are Beaches In Maldives Clean?
A: Maldives is famous throughout the world for being home to a plethora of beaches. These beaches have crystal clear water and are not at all polluted. In fact, the beaches here are far from being polluted.
What's The Accepted Currency For Tourists In Maldives?
A: The Maldivian Rufiyaa is Maldives' national currency. However, the USD remains as the more accepted currency for tourists.
What's The Temperature Of Water In Maldives?
A: Thanks to the tropical climate of Maldives, the water temperature stays warm all through the year. Usually, the water temperature hovers between 28 and 30 degree Celsius.
Is It Safe To Visit Maldives?
A: Yes, it is safe for foreign nationals to visit Maldives. This is because the place is declared safe by the Maldives Ministry of Tourism. So, you can explore the islands freely as a tourist, without any concern.
What Souvenirs Can One Take From Maldives?
A: When in Maldives, you can buy Maldives art paintings, handmade necklaces, Wicker mats as well as local clothes. You can even buy animal statues, native ships and fridge magnets as souvenirs to take back home.
Enjoy Your Trip!