Dooars Tour Package
Dooars Jungle Safari Tour Includes Gorumara, Jaldapara, Samsing Like Green Beauty of Dooars
Are you hell bent on making your next holiday trip as colorful as possible? Are you looking for the best possible way to make it highly memorable? Nature Camp Travels can be your one-stop solution in this regard.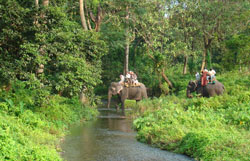 We are one of the trusted tour providers in India and our years of experience in running this business have placed us in an unrivalled position.
For a short and indelible trip, our Dooars tour package can help you to a great extent. It's a four days - three nights tour and can help you relive your vigorous days once in a while!
Exclusively fabricated for meeting the requirements of adults and children alike, the Dooars package we provide is meant to satisfy you in the finest manner.
Know about Dooars:
Dooars are mainly the foothills of the Eastern Himalayas. Dooars also known as Duars that means door in various regional languages like Bengali, Assamese, Bhojpuri and more as well as it is also significance of the gateway of Bhutan, Darjeeling and Sikkim region. The total area of Dooars is 220 Sq. Km. and the best season is September to April. The beauty is lies with tea gardens, dense jungle, wildlife sanctuary and more. There are huge number of animals like elephant, tiger, rhinoceros and others. To know more you may visit Department of Tourism (Govt. of West Bengal).
Your Trip to Dooars is Designed in the Following Ways:
Day One: Once you hire our tour package, our representatives will await your presence at NJP station on the scheduled date. We well drive you to Murti in some luxury car and after an exhilarating Jungle Safari in Gorumara, your day will end with a lavishing night stay at a forest resort.
Day Two: On the second day, you will be taken to a number of famous places including Rockey Island, Sutalekhola, Samsing and many others.
Day Three: The third day will help you gather some really awesome memories. We will take you to Bindu, the last village in West Bengal. The scenic beauty of Bindu is not only appealing in nature, but also best known for casting a long-term impact on the minds of the tourists.
Day Four: After a sumptuous lunch in a good restaurant, we will drop you off at NJP station with full of memoirs in your wallet.
We Also Offer Sightseeing At A Number Of Places In Dooars & They Are As Follows:
Why You Should Contact Naturecamp Travels:
The most important reason why you should waste no time of yours to give us a swift call at Nature Camp Travels is our high-end reputation. It's been years we are running this business and our years of proficiency have enabled us to attain first-rate expertise for providing classy tour packages.
When you are out on a journey, the first thing that takes your heart away is the fear of facing a number of hurdles while looking for staying and fooding accommodations. Our representatives at Nature Camp Travels make sure that you have one of the best experiences of your life.
Our honest dedication, first-rate expertise and matchless management abilities have differentiated us from the other ventures offering the same service.
Most importantly, we offer a moderate price rate. You have no reason to think that hiring us will leave a dent in your pocketbook! Rather, we charge an absolutely affordable rate and promise to make your trip as nice as a walk on the cake!
Dooars Tour Package Covers
3 Nights / 4 Days - Gorumara
Day 1: Pick up from NJP/ Mal Junction and Transfer to Lataguri/ Murti, in the afternoon Jungle Safari in Gorumara. Night Stay at Resort.
Day 2: After Breakfast Start For Samsing, Suntalekhola, Rockey Island. Night Stay at Gorumara.
Day 3: After Breakfast Visit Bindu, last Village of West Bengal, Bindu is a Bengali Word, also visit Jaldhaka Hydro Project at Jhalong. It is First Hydro Project of India. Night Stay at Gorumara.
Day 4: After Lunch Check Out and Transfer to Mal Junction /NJP.
Covering Places:
Samsing
Sutalekhola
Rockey Island
4 Nights / 5 Days - Gorumara & Jaldapara
Day 1: Arrival at New Mal Junction/New Jalpaiguri Junction/Bagdogra Airport. Pick up from station to Lataguri. Check in at hotel. After lunch, Jungle safari at Gorumara. Evening at leisure. Over Night at Lataguri.
Day 2: After Breakfast, full day excursion at Jhalong, Bindu, Suntaleykhola, Rocky Island, and Samsing. Back to hotel in evening. Overnight at lataguri.
Day 3: After breakfast, check out from hotel and boarding to Jaldapara. Check in at Jaldapara hotel. At evening tribal dance and bonfire at resort. Overnight at jaldapara.
Day 4: Early morning jungle safari at Jaldapara. After safari, back to hotel, after breakfast sightseeing at Buxa, Jayanti .Back to resort at evening.
Day 5: After breakfast, check out from hotel and drop to Hasimara station.
6 Nights / 7 Days - Buxa, Raimatang, Chilapata & Jaldapara
Day 1: Pick up from Alipurduar and transfer to Santalabari Village at The Buxa Tiger Reserve. Santalabari is one of the Eco destinations of a jungle lover of Bengal. Night stay at Santalabari.
Day 2: Morning Jungle Safari at Buxa and Evening Visit Jayanti. Night Stay at Santalabari.
Day 3: Transfer to Raimatang. A Jungle Village at Buxa Tiger Reserve. Full day free for Jungle trail. Night Stay at Raimatang.
Day 4: Leave Raimatang early morning and drive to Chilapata. One Of The Beautiful forest of Dooars. Night Stay at Chilapata.
Day 5: Morning Jungle Safari and after breakfast check out from hotel and drive to Madarihat. A small Village of Jaldapara National Park. Evening Visit khayerbari leopard rescue center. Night Stay at Madarihat.
Day 6: Early Morning Jungle Safari and Visit Totopara Tribal Village. Night stay at Madarihat.
Day 7: After Check Out transfer to Hashimara Railway Station.
Covering Places :
Gorumara National Park
Samsing
Jhalong
Buxa
3 Nights / 4 Days - Rajabhatkhawa & Raimatnag
Day 1: Pick Up from Alipurduar and transfer to Rajabhatkhawa. Night stay at Rajabhatkhawa.
Day 2: Early morning jungle safari. Full day sightseeing at Santalabari. Visit Buxa Fort by walk, evening Visit Jayanti river bed and night stay at Rajabhatkhawa.
Day 3: Transfer to Raimatang. One of the small jungle villages of Buxa. Night stay.
Day 4: Transfer to Alipurduar Rly Station.
2 Nights / 3 Days - Jaldapara
Day 1: Pick Up from Hashimara and transfer to Madarihat. A Village of Jaldapara National Park. Evening Visit khayerbari leopard safari. Night Stay at Madarihat.
Day 2: Early Morning Jungle Safari and Visit Totopara. An Oldest Tribal Village of Alipurduar District. Night stay at Madarihat.
Day 3: Transfer to Hashimara.
5 Nights / 6 Days - Rishyap, Jhandi & Gorumara
Day 1: Pick up from New Jalpaiguri Station and transfer to Rishyap via Lava. Rishyap is small village of Neora valley National Park and located in Kalimpong subdivision and it is well known summer destination of Bengal. Neora Valley National park is upper part of Dooars. Night stay at Rishyap.
Day 2: Morning Visit Lava and Lolegaon. Night stay at Rishyap.
Day 3: Transfer to Jhandi. An Offbeat destination of North Bengal. It is very Near to Lava. You can take some time for Village trail at Jhandi. Night at Jhandi.
Day 4: After breakfast transfer to Murti. It is Pert of Gorumara. Night stay at Murti.
Day 5: After Morning Jungle safari Visit Samsing, Rocky Island, Suntalekhola. Overnight at Murti.
Day 6: Transfer to Mal Junction or NJP Railway Station.
3 Nights / 4 Days - Gorumara & Jhandi
Day1: Pick up from Mal Junction and start for Lataguri. Evening Jungle Safari and night stay at Lataguri.
Day2: Bindu, Jhalong, Suntalekhla sightseeing and overnight at Lataguri.
Day3: Transfer to Jhandi, an Eco Village of Western Dooars. At evening, a small village trail at Jhandi and night stay.
Day4: Leave Jhandi and Transfer to Mal junction railway station.
5 Nights/ 6 Days - Jaldapara , Chilapata , Rajabhatkhawa/ Buxa & Manas National Park
Day1: Arrival at Hashimara railway station and transfer to Madarihat, small village of Jaldapara national Park, one of the biggest National Park of Dooars. evening visit at khayerbari tiger project and night stay at Jaldapara.
Day2: Early morning Jungle Safari at Jaldapara and transfer to Chilapata via Cooch behar rajbari and Modon mohon temple. These places are popular for heritage and history. Night stay at Chilapata.
Day3: Early morning Chilapta Jungle Safari and visit Buxa Jayanti, Rajabhatkhawa. After full day sightseeing, transfer to our Jungle Resort at Rajabhatkhawa.
Day4: Drive to great Manas National Park. It is well known world heritage site, best and biggest National Park of Dooars, Also you can say Eastern Dooars, located in Assam. Around 4 hour drive from Alipurduar. Night stay at Bansbari, one of range of Manas National Park.
Day5: Full day Jungle Safari with Our expert Jungle guide. The timings of Jungle Safari are 9 A.M to 12 P.M and 2 P.M to 5 P.M. Our guide can help for explore great Manas National Park. Night stay at Bansbari.
Day6: Morning Elephant safari and Visit local village by walk. You can enjoy local life and culture. After check out from our camp/ resort transfer to Alipurduar/ Bongaigaon railway station.
Our Services Include:
Accommodation for three nights/four days in deluxe hotels
Top-end breakfast and dining facilities
Excellent transport
All transfers and vehicles will be arranged as per our tour package
Sightseeing as per itinerary
Why You Choose Our Dooars Tour Package?
We are certified tour and travel operator based in Kolkata offering complete Dooars tour packages
We offer both small and family tour packages
We cover the important place within Dooars
Modern and comfort vehicle to travel Dooars
Luxury hotels with modern facilities
24x7 Assistance & Medical Emergency
Reasonable price
Our Best Hotels Offers:
We offer quality accommodation with best amenities
24x7 doctor-on-call, Wi-Fi, car parking, Led TV and more
Foods are available, medical team and proper assistance
Modern and luxury services
Balcony, in room dining, restaurant & other facilities are available.
Precautions need to take while Travelling
Need to carry some essential things like sleeping bags, torch, tent and more.
You can carry some dry foods, chocolates and other energetic food.
Carry some emergency medicine like paracetamols, vomiting tablets, band-aids, septic cream and more.
How to Reach Dooars?
You can reach Dooars by Rail, Bus or Air. From Kolkata to Dooars it distance near 560 km and it takes near 12 hours. You can take train from Sealdah Station. If you want to travel by Air then the Bagdogra is the major area where you need to land and that is 17 km from Siliguri.
Some Helpful Information about Dooars:
Watch tower of Gorumara National Park
Jatraprosad
Chapramari
Chandrachur.
Chukchuki
Medhla
Nearest Airport of Dooars: Bagdogra Airport

Nearest Railway station of Different Part of Dooars:
Gorumara: Mal Junction and New Jalpaiguri Station
Jaldapara: Hashimara Railway Station
Chilapata: Hashimara Railway Station
Buxa and Jayanti: Alipurduar Junction
Some Offbeat Destination of Dooars:
Kumai, Rocky Island, Jhandi, Kolakham, Sisamara, Panjhora, Raimatang, Lepchakha, Chunabhatti, Gorubathan, Lankapara and Fagu Tea garden.
Jungle of Dooars:
Chapramari Wildlife Sanctuary
Mahananda Wildlife Sanctuary
Neora Valley National Park
Chilaoata Wildlife Sanctuary
Buxa National Park
Manas National Park
Resorts in Dooars: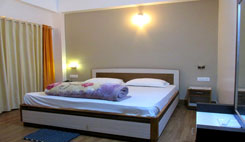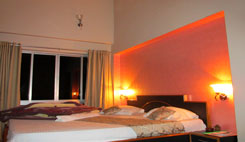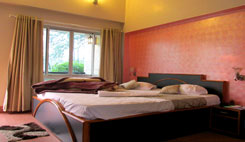 Contact Us Today:
So, before it gets too late and we are booked by a number of tourist lovers, contact us at 9874439571 or visit us and our eminent representatives will be more than happy to discuss all your requirements.
Be it a short trip or a long one, your tour can never be satisfactory, unless it is planned in the finest manner. Our prominent representatives make sure that you get exactly what you are looking for.
You can also contact us through our email at naturecamptravels@gmail.com. No matter how extensive your queries are, feel free to jot down your doubts and send them to us. We will give our best effort to eradicate all the hesitations in your mind and build the trust factor in the manner.
Pack your bags and get going!!
Enjoy Your Trip!
Reviews:
Pallab Bhar
★★★★★
"I went for a trip to Dooars from Nature camp. The arrangements were very good. My 4 year daughter was also travelling and we at first were worried about her. But not to worry the resorts provided by them were excellent with immense space and playing ground. Food was also very good and we have no probs."
Sushovan Basu
★★★★★
"This was a wonderful experience ...to travel at Dooars with Nature Camp this month . This was our first trip with them . Starting from the trip booking to tour end ...... I found a very good management, coordination and transparency in their every communication.... from trip executive to owner Saibal Pathak. Even their selection of hotels , politeness of drivers/coordinators are just fantastic. Almost everyday I used to receive call from Nature camp office Executive ...asking/taking feedback about our tour . Earlier I had a very bitter experience with another fraud Tour operator (in 2010 at Dooars and 2012 at Assam) . But here it was a dreami tour and I would like to travel with Nature Camp in my next trip. All the best to Nature Camp."
Subhadeep Mukherjee
★★★★★
"A nice experience with Nature Camp Travel. I had visited Dooars by their supervision. Resorts were very good and friendly atmosphere. Mr. Pathak always took care over phone. I want to travel my next trip with them. Thank you Nature Camp..."