Affordable Spiti Valley Tour Packages from Kolkata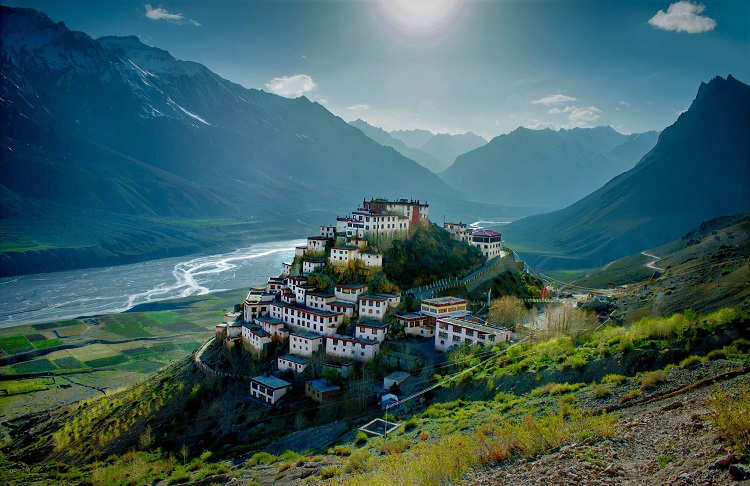 Situated in the Northeastern Himachal Pradesh, Spiti Valley is a picturesque mountainous paradise. The Spiti valley tour packages are ideally designed to let people explore the beauty of this place. Spiti loosely translates as the 'middle land'. It is a cold desert mountain valley located about 412km away from Shimla. The place houses several Buddhist monasteries and other stunning natural sites that tourists can explore. The fast-flowing Spiti river looks pristine and beautiful while gushing through valleys and deep gorges. It is also a popular destination for sports enthusiasts, especially river rafting.
Spiti Valley is the land that separates India and Tibet. It is the second least populous place, heaven in paradise surrounded by rugged mountain terrains and scattered villages. A high-altitude cold desert, you can enjoy some amazing trekking opportunities after visiting the district. Every village provides a different magical experience that will leave a permanent mark on your memories. From the freshwater lakes to the snowed desert plains, the place offers a vivid panorama with striking visuals. Thus, for travellers, Spiti valley is the ideal destination for a genuine experience.
Why Visit Spiti Valley?
Spiti is well known for its Buddhist culture. You can see several monasteries in this region like the Key Monastery, Dhankar Monastery, Tabo and Kungri Monastery. The Trilokinath temple is a place worth visiting. The Chandratal lake is crescent-shaped, making for a breathtaking sight. This makes it a highly popular attraction in the Spiti Valley.
If you are an adventure sports enthusiast, Spiti Valley is the place to be. You can experience the thrill of activities like mountain biking, river rafting, trekking and more. For local shopping, you can visit the Keylong market and other Tibetan shops to buy souvenirs for friends and family. March to June is the best time for planning a trip to Spiti. You also include other trip routes to places like Manali, Sangla and Shimla.
Another unique factor about Spiti Valley is fossil hunting. Areas like Hikkim and Langza have evidence of fossil remains excavated from these lands. The Tashigang village close to the India-Tibet border provides marvellous views of the mountain. Hence the place should also be on your 'must-visit' list.
Services Included In Our Spiti Valley Tour Packages
Meals
Hotel accommodation
Room service
Local sightseeing
Transportation
VAT and service charges
Spiti Valley Holiday Tour Packages Covers
Day1: Arrival in Shimla
We will pick you up from Chandigarh Airport or Kalka Railway station and transfer you to Shimla. Check-in hotel after arrival. Have your dinner and stay overnight.
Day2: Shimla to Sangla
After having your breakfast, we will start our journey for Sangla. It is a small town in Kinnaur District in Himachal Pradesh and located in Bospa Valley. Overnight stay at Sangla.
Day3: Sangla to Chitkul
After breakfast, we will take you for Chitkul sightseeing. Visit Kamru Fort, located at a distance of 2 km from Sangala. Go to Mathi Devi Temple and enjoy an overnight stay at Sangla.
Day4: Sangla to Kalpa
After breakfast, you will be transferred to Kalpa, a Beautiful Himalayan village. Overnight stay at Kalpa.
Day5: Kalpa local sightseeing
Enjoy local sightseeing at Kapla after breakfast. You can visit Suicide Point, Narayan Nagini Temple, Huba Lan Kar Monastery, and Sapni Fort. Overnight stay at Kalpa.
Day6 : Kalpa to Nako Village
We will Have Brekfast and transfer to Nako. in the journey you can see the rough form of nature, your are about the to journey throught the cold desert of Himalyas. Overnight at Nako Village.
Day7: Nako Village to Tabo
Very early in the morning we will have breakfast and leave for Tabo.(63.8 Km). Tabo sightseeing Dhankar Monastery. Tabo Monastery is the oldest Monastery on India. (Night Stay at Tabo)
Day8: Tabo to Kaza.
After Brekdast Transfer to Kaza.Night stay at Kaza.
Day9: Kaza Local Sightseeing.
Kaza sightseeing Key Monastery, Hikkim, Komic, Langza and Kibber village. Visit the Key monastery and Kibber village, the highest inhabited village in the world. The Village is Located at an altitude of 4270 m.Night stay at Kaza.
Day10: Kaza to Chandrataal Lake
Kaza to Chandra Taal Lake, Chandratal Lake is Located at an altitude of 4300 m. Stay in the tent here at night.
Day11: Chandratall to Manali
After breakfast proceed to Manali via Atal Tunnel.Night stay at Manali.
Day12: Manali to Delhi or Chandigarh.
Will be transferred to Delhi or Chandigarh after breakfast.
Enriching Experience
Spiti Valley is the pride of India, with an abundance of natural beauty that makes it one of the most preferred tourist destinations. The place is immersive with a culture that bespeaks the rich heritage of this place. There are a lot of interesting things you can do here. So if you are in Spiti and wish to explore the valley's grandeur, you should visit the decorative monasteries.
Key Monastery
Located on the hilltop, it is taken care of by the thriving community of lamas. Here approximately 300 lamas study Cosmology, Sadhana and Physiology. It is the biggest and oldest monastery in the Spiti Valley.
Dhankar Monastery
This is a 1000-year-old fort monastery that overlooks the confluence of the Spiti and Pin rivers. The monastery seems to hang off the cliff, making it appear ethereal and majestic.
Tabo Monastery
The locals popularly refer to it as the "Ajanta Of Himalayas". Founded in 996 A.D., the monastery has different wall paintings and murals adorning the interior walls. You go to the prayer hall through small doors while looking at the century-old paintings.
Local Cuisine
When in Spiti Valley, you cannot miss out on Tibetan food which dominates the platter. The popular local cuisines of this area include Butter tea, Momos, Thupka, Chang (a local beer) and Arkah (a locally made whiskey). The flavoured aromatic tea is the speciality of the region. It is made from ingredients like salt, honey, dry fruits and mint.
How to Go There:
By Air : You can take a flight to Shimla or Manali to go to Spiti Valley. Direct flights ply from Delhi, Chandigarh, Kullu to Shimla. You can also take a bus from Manali to Kaza.
By Train : The route stretches from Shimla via Kinnaur to Kaza. It is open for eight months. Buses ply from Manali to Kaza between July to October.
By Road : The nearest railway to Spiti Valley is Jogindernagar. The nearest broad gauge rail stations are Shimla and Chandigarh. You can also take a bus or taxi to the valley from these two cities.
Our Spiti Valley Package Includes:
Stay in decent accommodations
Local sightseeing
All meals
Trip management services
Comfortable vehicles for sightseeing
What Is Not Included In Our Spiti Valley Package
Entry fee to tourist spots
Personal payments
Travel expenses to reach places not included in our package
Facilities Offered At Our Hotels
On-time meals
Quality room service
Luxury amenities
Emergency medical team
What Makes Nature Camp The Best Tour Operator For Your Spiti Valley Trip
A renowned travel agency for affordable Spiti Valley tour packages.
All our tour operators are experienced, skilled and friendly.
Try to establish and maintain a long-term relationship with all our clients.
All travel arrangements are made on your behalf by the tour operator.
Ensure a stress-free, memorable holiday by booking our tour packages.
Get medical assistance during emergencies throughout the trip.
Let you choose from a wide variety of tour packages.
"Contact Us And Make Your Spiti Valley Tour Memorable"
Enjoy Your Trip!