If you want to start your tour of exploring India, choose the North East India Tour Packages from Kolkata offered by Naturecamp Travels. The Northeast region comprising of 7 states is also known as the land of Seven Sisters. Most of them are untouched and there is so much to explore.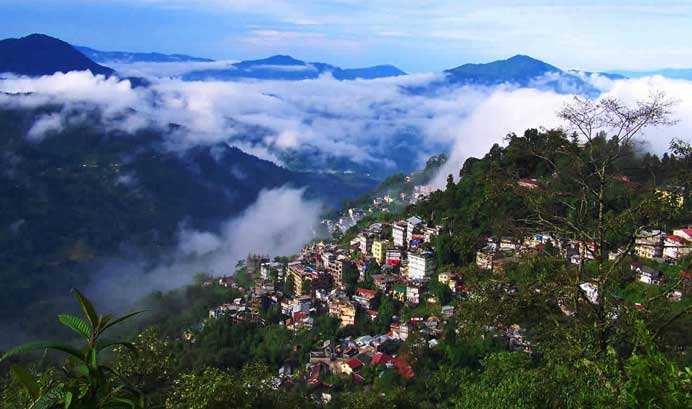 Being bountiful in flora and fauna, our package offers you not only to have a glimpse but relish the numerous places of scenic beauty. Whether it's Sikkim, West Bengal, the beauty of Nuranang Fall, or Sela Pass, our package covers it all. Book our package now and stay prepared to have some breathtaking experiences with your friends and family members which you all can relish for the rest of your life.
The ancient land of India is endowed with many such heritages which waving its beauty everywhere. From north to south and from east to west, there are many famous places in India, which are famous all over the world for their natural beauty. If we talk about the north-eastern region of India, then it is considered a storehouse of beauty. It is said that the North-Eastern region is quite advanced for the North East Tour Package in India. Be it Shillong or Guwahati and Gangtok or Tawang, all these places attract a lot of tourists.
You will not be able to describe in your own words the beauty of Shillong's valleys covered in the green sheets of nature and the mountains of Sikkim adorning the crown of clouds on your head. Nature has done such tremendous work in these places in North East India that the senses of thousands of tourists who come here are blown away. If you are also planning a North East Tour during your vacation, then you must definitely visit these selected places.
Guwahati
The largest city in the Northeast and the gateway to the Seven Sisters, Guwahati has always been quite popular among tourists. Tourists, who are out on a tour of Assam definitely like to come here, Guwahati welcomes all kinds of tourists, this city has a lot of historical, cultural and natural importance. This city is very important for family holidays. You can get the privilege of visiting the most famous religious place here, Kamakhya Devi Temple. Apart from this, one can enjoy a tour of the world's largest river island built on the Brahmaputra River. You can also explore the Assam State Museum and Fancy Bazaar etc. on your North East Package Tour.
Cherrapunji
If you want to make your family tour a little thrilling, then you can go for a trip to Cherrapunji in the northeastern state of Meghalaya. Cherrapunji is known as the second wettest wetland in the world after Mosinram. If you want to see the beautiful form of nature during monsoon then you must come here. Nohkalikai Falls, Denthlen Falls, Seven Sisters Falls, Massamai Cave, Thangkharang Park, Living Root Bridge, etc. are counted among the most popular sightseeing places in Cherrapunji. This place is considered very special for North East India Holiday Tour Packages. You can make a plan here to spend a quality time.
Tawang
Tawang, the smallest region in the northeast of the state of Arunachal Pradesh, is a special place in the state where you can feel heaven on earth. With a height of 2,669 meters, this hill station works to impress the tourists a lot. Tawang Monastery, Shonga-Tsar Lake, Nuranang Waterfalls, Pankang Teng Tso Lake, Bap Teng Kang Waterfall and Jaswant Garh are some of the famous places here. This place means a lot of spiritual and mental peace. The 400-year-old Tawang Monastery is not only one of the oldest, but has also been named as one of the largest Indian monasteries.
Aizawl
Apart from the above mentioned places, you can take a tour of Aizawl, the capital city of Mizoram. During its sub-tropical climate, the site welcomes tourists throughout the year. Mizoram is mainly known for its enchanting climate, attractive scenic spots and winding trails. For a family vacation, you can choose the city of Aizawl in Mizoram. Aizawl is counted among the favorite places of nature lovers and adventure enthusiasts. If you are looking for a quiet place, then you can visit this place. Durtlang Hills, Solomon Temple etc. are famous places here.
Shillong
Shillong, the capital of Meghalaya, is also known as the 'Scotland of the North East'. There is a wonderful weather here for twelve months. Due to the mountains and beautiful greenery here, the weather here remains awesome. One can see Shillong Peak, Lady Hydari Park, Kailong Rock, Wardas Lake and Sweet Waterfall located here. The real fun of visiting Shillong comes only on foot or by local transport. You can also visit Umiam Lake, Elephant Falls, Mausinram Village and Jakarum Hot Springs here.
Darjeeling
Like Sikkim, there are dense mountains in Darjeeling. Here you can see Tea Estate (Tea Garden), Monastery, Batasia Garden, Kangchenjunga View Point, Mahakal Temple, Tenzing Rock, Rope Way and the world's 14th and India's highest 'Ghoom' railway station. From Darjeeling you can also see Kusong, India and Nepal's border Mirik.
Kaziranga National Park
Kaziranga National Park is the important options. It is one of the oldest parks in Assam which is famous for endangered rhinoceros. The perfect time to explore here is from November to April. Here you can find 35 species of mammals, one-horned rhinoceros, elephants, peacocks, deer and various bird species.
Imphal
When it comes to visiting Manipur and Imphal's name is not taken, it cannot happen. It is indeed one of the most famous places in Northeast India. Imphal is located in the center of Manipur. Here you will get a chance to admire the amazing beauty of nature, ranging from lakes and waterfalls. There are many wonderful things to do in Imphal. You can visit many great places here like Loktak Lake, Kangla Fort, Red Hill Lokpath, Manipur State Museum, Sirohi National Park, Keibul Lamjao National Park, Manipur Zoological Garden, Matai Garden, Khongpat Orchidarium and Shri Govindji Temple.
Kohima
If you want to feel the untouched moments of nature, then your first visit should be Kohima, the capital of Nagaland. Nature-lovers can comfortably spend two to three days with nature. You can enjoy adventure activities like trekking, hiking and camping in Kohima. When you visit the Commonwealth War Cemetery in Kohima city, you will remember 1400 Indian martyr soldiers who were martyred in World War II. The Kohima War Cemetery is the most visited place in the entire Kohima. Other Tourist Places in Kohima; Japfu Peak, Dzukou Valley, Kohima State Museum and Nag Heritage Village, these are some best places where you can enjoy a lot.
Dirang
Dirang is a non-crystalline gem hidden in the forests of Arunachal Pradesh. It is a major center of Buddhism and Bhutanese culture. It is one of the most important tourist places of Arunachal Pradesh. It is located in Lower Dibang Valley. Its natural beauty attracts tourists. It has many lakes and waterfalls. This picky city will mesmerize you. With the spectacular scenery that pleases your eyes and the mild climate that comforts your body and soul, you can't wait for a better place to spend your vacation.
Manas National Park
This beautiful National Park is a UNESCO Natural World Heritage Site; it is a Project Tiger Reserve and also a Biosphere Reserve so it can be a best option for a holiday trip. The park is located in the Chirang and Baksa districts of Assam, and the nearest town to the park is Barpeta. Manas is the only tiger reserve in Assam and it is also famous for rare and endangered wildlife like Assam tortoise, golden langur and pygmy hog. In this park, you can easily see rhinos and tigers sitting on an elephant. Forest officials arrange jungle safari elephant rides for tourists from Matanguri to Manas. The Manas River is the largest of the three other rivers in the Bhutan region. It is situated between two countries which are the Himalayan foothills between southern Bhutan and India.
When you travel with Naturecamp Travels, you choose a special travel experience, high quality, extensive knowledge and a personal service so that your holiday becomes a special experience. We take full control of the organization so that you can enjoy it for the full 100%. What is special about Holidays Tour packages North East, After all, there are plenty of portals that offer North East India tour packages? In the internet, you will find numerous travel portals offer tour packages for north east, but we focus especially on these tours. We guide and advise you from the booking to your return journey. We are also offering North East Tour Package from Kolkata.
Our employees do their utmost to perfectly organize your precious holiday time and are happy to put together an individual, non-binding offer for you at any time with the help of our unique price comparison system and their personal experience. Experience messages from our customers.