Best Kerala Tour Packages from Kolkata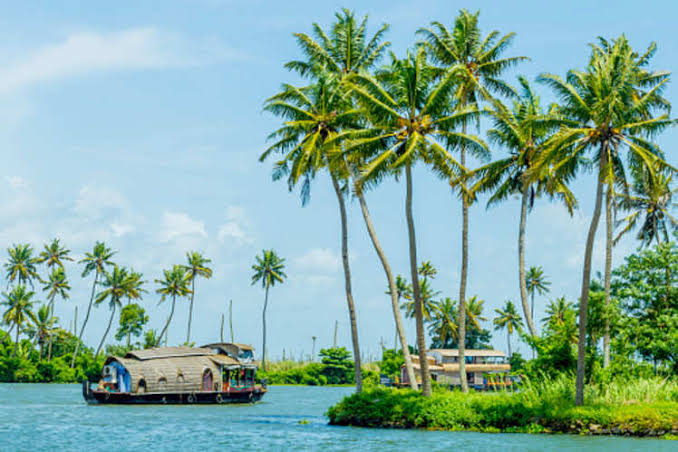 If you are planning to visit Kerala and looking for the best Kerala tour packages from Kolkata, get in touch with Naturecamp Travels today. Not only do we let you choose from numerous tour packages but can also customise one to match your travel needs. Recently, the number of people approaching us for Kerala Tour Packages has enhanced drastically. If you are also willing to make your trip to 'God's Own Country' memorable and hassle-free, hire our travel agents.
The natural beauty of Kerala will leave you mesmerised as the place is famous for its rice fields, tea plantations, waterfalls, palm trees and beautiful beaches. Relax on the golden beaches of Kerala while sipping tender coconut juice and add a special charm to your trip. There are even a few hill stations with sun-kissed beaches, calm and quiet backwaters, green forest covers, spice plantations, therapeutic traditions and luxuriant forests. Our Kerala Tour Packages from Kolkata will let you explore the destination without punching a hole in your pocket.
What's Included In Our Kerala Holiday Packages?
Delicious meals
Local sightseeing
Hotel accommodation
Room service
Transport facilities
Water sports activities
Inclusive of VAT and service charges
Major Tourist Attractions In Kerala
Kerala is not only about palm-lined beaches and backwaters. The rich culture and heritage of the place attracts hundreds of global tourists every year. If you are willing to make the most of your Kerala trip, there are a few places you should definitely include in your tour package. Few of them are,
Alleppey- The place is known as the Venice of the East as it offers the perfect blend of houseboat stays, backwater trips and serene beauty.
Thekkady- Hidden under wild vegetation and thick forests, Thekkady boasts of exotic wildlife. Wildlife observation and boating are common pastimes for tourists.
Munnar- This famous hill station has more than 80000 miles of tea plantation, misty valleys, low-flying clouds and aromatic vegetation.
Bekal- Visit the famous Bekal Fort and feel fresh sea breeze passing through your hair. Its serenity and exotic beauty makes it one of the ideal honeymoon places.
Kozhikode- If you are willing to treat your taste-buds with authentic Malabar cuisine, make sure you include Kozhikode in your Kerala tour package.
Varkala- The appealing coastline and scenic seaside attract thousands of tourists every year. Surfing, jetting, boat riding and parasailing are few of the fun activities you can enjoy.
Kumarakom- The pleasant weather, alluring sceneries and striking flora and fauna offered by this tranquil place is a must-visit for those looking for solitude and privacy.
Wayanad- It is a green tourist place in Kerala with serene atmosphere, rich culture and godly beauty. There are also a few small and beautiful unnamed waterfalls.
Kovalam- It is considered to be one of the best beaches in Kerala. The deep strong massages and sunbathing feats will make your New Year celebrations more enjoyable.
Vagamon- This enchanting hill station is decked with beautiful dales, mystical gardens, aromatic tea plantations, magical meadows and misty valleys.
Few Activities To Enjoy During Your Trip
Explore adventure water sports in the beautiful and pleasing beaches. Few of them are scuba diving, surfing, kayaking, parasailing, snorkelling and Kerala boat race.
Undertake a cycling or biking tour amidst the pure atmosphere of Kerala. Idukki is the best place for bike trips.
Indulge in paragliding as there are numerous paragliding spots in Kerala. There are many companies offering Kerala paragliding packages with the best price guarantee.
Stay in a tree house in the middle of nature and create some magical moment. It sets a very romantic mood so make it a lifetime experience.
Take a bath in the refreshing Arabian Sea coastline and numerous stunning beaches like Marari Beach, Kovalam Beach and Varkala Beach.
If you love forests, opt for a wildlife safari in Kerala and enjoy rich biodiversity and incredible flora and fauna.
Opt for Bamboo Rafting and lie slightly in the bamboo, listening to medley of birds and watching arboreal animals.
Enjoy Mountain Climbing as there are numerous famous spots like the Chembra Peak in Wayanad.
Best Time To Visit Kerala
Though the beauty of Kerala remains intact throughout the year, September to March is considered to be the best season. The climate becomes comfortable and the weather becomes pleasant with less humidity. The sunny sky is mild and pleasant so tourists can enjoy their time in the beaches, backwaters and hill stations. The abundant rain the place receives contributes to its lush greenery. If you are visiting Kerala in September, October, November, December, January or February, few places you should definitely visit are Munnar, Alleppey, Thekkady, Kovalam and Kumarakom.
Kerala Tour Packages - 6 Night/ 7 Days
FAQ – Kerala Tour Packages

"Is Kerala A Safe Destination For Tourists?"

It is one of the safest tourist destinations in India as Kerala is the least corrupt Indian state.

"What Type Of Climate Will I Experience In Kerala?"

This is dependent on the time of the year you are visiting Kerala. Generally, the state experiences corresponding diversity in climate because of its diverse geographical features.

"What Type Of Clothes Is Acceptable In Kerala?"

Though being a conservative state, the people are quite flexible when it comes to tourists clothing.

"How Many Airports Are There In Kerala?"

The 3 important airports in Kerala are the Cochin International Airport, Nedumbassery, Trivandrum International Airport, and Karipur Airport, Kozhikode.

"Are Houseboat Stays Safe?"

Tourists opting for houseboat stays can stay assured about their safety as utmost care is taken by the houseboat crew to meet the tourists' needs. They undergo special training in first aid and life-saving techniques to handle emergency situations when required.

"Can I Eat Non-Vegetarian Food In Kerala?"

Food safety is largely dependent on the place you are visiting. There are many famous restaurants in Kerala serving non-vegetarian dishes.

Travel Tips For Your Kerala Trip

Pack light clothes in breathable fabrics.
Carry woollen clothes if you are planning to visit Munnar, Thekkady or Vagamon.
Use suitable sunscreen with SPF 30+ or 50+
Pack mosquito repellent and medicines if you are travelling with your kids.
Don't carry mineral water and make your luggage heavy. You can buy them from the local shops.
Make your bookings in advance and take the aid of our experienced tour operators.
Avoid public transport as they are generally crowded.
Opt for taxi services with professionally trained drivers speaking English or Hindi.
Try out unique food items like Appam, Appams, Uppuma, Idli, Masala Dosa and Putt.

Why Choose Us For Kerala Tour Packages?

One of the leading travel agencies offering Kerala Tour Packages from Kolkata.
Customise tour packages to suit your travel needs and budget.
Provide comfortable accommodation with modern amenities.
Genuinely care for customer's choice and provide 100% satisfaction.
All our travel agents have a passion for travelling.

"Contact Us To Know More About Our Kerala Tour Packages From Kolkata"