Affordable Ladakh Tour Packages from Kolkata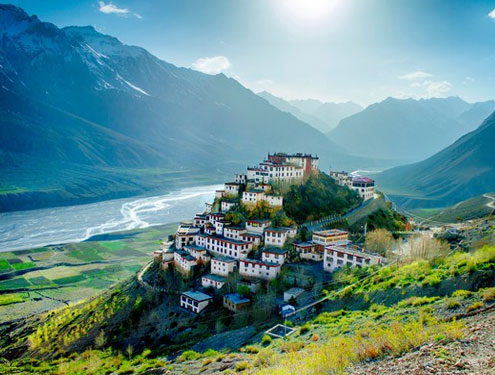 If you love high mountains, wide rivers and low valleys, get in touch with Naturecamp Travels and choose the most suitable Ladakh Tour Package from Kolkata. This surreal destination attracts hundreds of tourists every year. The touristy areas of Leh and Ladakh are quite safe and secure so you can make the most of your trip.
The magnificent destination will leave you in awe irrespective of the time of the year you are planning your trip. The place offers the perfect blend of divinity and spirituality with colourful Tibetan flags amidst white snow and rolling prayer wheels. We understand your travel needs and customise our Ladakh tour packages accordingly. We try to include all the famous tourist attractions in your package.
Why Visit Ladakh?
Though there are numerous tourist destinations scattered all over India, visit Ladakh at least once in your life if you are willing to soak the beauty of the unique landscape. Few common reasons to visit Ladakh are high altitude passes, barren mountains, adventure tourism, mountain climbing, camping adventure, motor biking expedition, alpine lakes and meadows, cold desert, trekking, white water river rafting, walking on frozen rivers, rides on double-humped camels, homestay experience, second coldest habitat, diverse landscape and Buddhist pilgrimage.
Services Included In Our Ladakh Tour Packages
Meals
Hotel accommodation
Room service
Local sightseeing
Transportation
VAT and service charges
Tourist Attractions In Ladakh
Pangong Lake-It is considered to be the highest altitude lake in India which changes colour many times in a day. The beautiful reflections of the Himalayan peaks make the lake more charming.
Nubra Valley-The low altitude of the Nubra Valley let tourists view the greener region of Ladakh. The roads are also quite spectacular. You can see signs of scant vegetation and precipitation levels.
Khardung La-After having breakfast at the hotel, you will be transferred to the airport for your journey to Kolkata. You will leave Bali with memories for a lifetime.
Tso Moriri Lake-It is a highly protected lake in Changthang Region and the largest of all high altitude lakes in India. May to August is considered to be the best time to visit this famous lake.
Magnetic Hill-If you are willing to enjoy some awe-struck moments during your trip, include Magnetic Hill in your Ladakh Tour Package from Kolkata. A unique feature of the hill is that it defies gravity completely.
Alchi Monastery-The rugged valleys and uneven mountain terrains has made this monastery a famous tourist destination in Leh. It is located in Alchi Village in the Leh District.
Hemis National Park -This famous national park has been named after the popular Hemis Monastery. It is not only famous for snow leopards but you can also see a wide variety of wild animals, flora and birds.
Activities To Include In Your Tour Package
Chadar Trek is a popular trek where you can enjoy trekking on a thin sheet of ice.
Markha Valley Trek will let you enjoy the beauty of the Gandala La, Kongmaru La and Hemis National Park.
Build a campfire near the Tso Moiri Lake to combat extreme temperatures and enjoy calmness at night.
There are numerous natural and artificial rocks you can choose for rock climbing in Ladakh.
The cold deserts freeze in winter which makes them suitable for skating, winter sports and ice hockey.
Both Khardung La and Marsimik La are suitable for motor biking. Make sure that the driver is experienced as the roads are very tricky.
Opt for Jeep Safaris and enjoy the challenging altitude and moonscape of Ladakh. There are numerous high passes, icy lakes and monasteries to cover.
Nubra Valley is a high altitude desert where you can ride on a double-humped camel and enjoy its striking landscapes.
Best Time To Visit Ladakh
April to June is considered to be the best time to visit Ladakh. The climate is pleasant during summer as the winter snow melts down. Another benefit of visiting Ladakh during summer is that the Manali-Leh highway is functional during this time of the year. You can also avail the Srinagar-Leh highway but first ensure that it has not been affected by landslides. Tourists visiting Ladakh in December can take part in the Frozen River Trek.
Travel Tips For Tourists
If you are planning to visit the Inner Line region, seek the necessary permits.
Trekkers should pack heavy woollens and trekking equipment.
Stock adequate drinking water to keep you hydrated at high altitudes.
Pack body moisturisers, sunglasses and sunscreen lotions.
Try to conserve the serenity of the environment during a safari trip or trekking excursion.
Make long-distance STD calls before 10 pm as the booths shut down after that.
Photography is restricted in a few places so look for signboards before clicking.
Carry sufficient Indian currency as credit cards are not accepted.
Don't disturb animals or natural ambience of a place when watching wildlife.
Carry water-purification pill as water is quite polluted.
Behave responsibly towards the local people.

Why Choose Us For Ladakh Tour Packages?

One of the most preferred travel agencies organising trips to Ladakh.
Let you choose from numerous tour packages or customise one.
Value our reputation and try to provide 100% customer satisfaction
Committed to offer travel services of the highest quality.

FAQ: Leh Ladakh Tour Packages

"Is There A Lack Of Oxygen?"

The atmospheric oxygen level will be low if you are travelling 10,000 above sea level and you might have altitude sickness or difficulty in breathing.

"How Can I Treat High Altitude Sickness In Ladakh?"

If you are facing high altitude sickness, loss of appetite, difficulty in breathing, giddiness or lack of sleep during your Ladakh trip, take rest for around 2 days.

"How Many Days Do I Need To Explore Ladakh?"

Though we let you choose from numerous Ladakh Tour Packages from Kolkata to suit your travel needs, minimum 2 weeks are required to explore the place. Numerous monasteries and tourist attractions are scattered all over Ladakh.

"What Types Of Clothes Should I Pack?"

This is dependent on the time of the year you are undertaking the trip. You will feel comfortable in T-shirts and shorts during the daytime. The climate becomes a bit chilly in the evening and you might require a pullover or jacket. Pack warm woollen clothes if you are planning to trek 4000 metres above sea level. If you are visiting Ladakh in June or July, pack some raincoats and wind cheaters as rainfall or snowfall can take place.

"What Type Of Tourist Vehicles Can I Hire?"

You can hire from a good fleet of tourist vehicles like Mahindra Scorpio vehicles or Toyota Qualis and make your trip comfortable. You can also avail auto rickshaws when visiting local tourist destinations.

"Contact Us And Make Your Ladakh Tour Memorable"

Enjoy Your Trip!