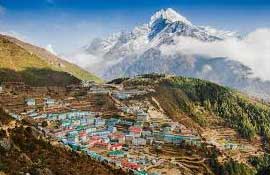 As the colourful patterns inside a kaleidoscope make it diverse and beautiful, the different landscapes, culture and traditions of Nepal make it one of the beautiful places in the Earth. Apart from the breath-taking views of the lofty Himalayas, one also gets to experience the placid lakes, emerald forests, phenomenal milieu of art, architecture and cultural heritage.

This 800 km long and 200 km wide country is divided into three physiographic divisions - Himal, Pahad and Terai. These divisions are intersected by the north to south flowing river systems. The Himal makes up the northern part of Nepal and consists of the famous Himalayan peaks and ranges, namely, Mt. Everest, Mt. Makalu, Mt. Annapurna, Mt. Dhaulagiri etc while the Pahad is the hilly terrain interspersed with beautiful valleys and rivers flowing in the area. The Terai is the Nepalese extension of the Indo-Gangetic plains bordered by the Shivaliks.

The culture of Nepal is rooted in the folk traditions and their practices whose essence can only be soaked up on a life time experience of travel to this beautiful country.

The destinations which are must to be visited in Nepal are Kathmandu, Pokhara and Chitwan.
Destination & Sightseeing: