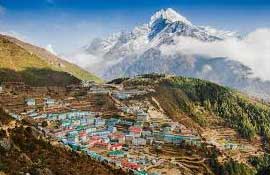 As the colourful patterns inside a kaleidoscope make it diverse and beautiful, the different landscapes, culture and traditions of Nepal make it one of the beautiful places in the Earth. Apart from the breath-taking views of the lofty Himalayas, one also gets to experience the placid lakes, emerald forests, phenomenal milieu of art, architecture and cultural heritage.

This 800 km long and 200 km wide country is divided into three physiographic divisions - Himal, Pahad and Terai. These divisions are intersected by the north to south flowing river systems. The Himal makes up the northern part of Nepal and consists of the famous Himalayan peaks and ranges, namely, Mt. Everest, Mt. Makalu, Mt. Annapurna, Mt. Dhaulagiri etc while the Pahad is the hilly terrain interspersed with beautiful valleys and rivers flowing in the area. The Terai is the Nepalese extension of the Indo-Gangetic plains bordered by the Shivaliks.
Book Exhilarating Nepal Tour Packages From Kolkata
A landlocked country in Southern Asia, Nepal is tucked away between Tibet and China. Popularly known as the land of impressive mountains, incredible landscapes and snowy peaks, Nepal is every traveller's paradise. It is a country which has a blend of rich culture, great adventure and adrenaline. Opting for Naturecamp Travels' comprehensive Nepal Tour Packages from Kolkata can thus be the experience of a lifetime.
Counted among the leading travel agency, we are widely known for offering a wide range of package tours. We specialise in offering customised tour packages to meet the specific travel requirements of tourists. Be it a family vacation, a honeymoon tour, a solo trip or a holiday with friends, we have you covered. Our skilled tour operators are passionate about travellers and go the extra mile to plan the perfect holiday for our customers.
The culture of Nepal is rooted in the folk traditions and their practices whose essence can only be soaked up on a life time experience of travel to this beautiful country.
The destinations which are must to be visited in Nepal are Kathmandu, Pokhara and Chitwan.
Destination & Sightseeing:
What Makes Nepal A Popular Holiday Destination?
Nepal boasts of eight of the world's ten highest mountain peaks, including the highest mountain above sea level- Mount Everest. The landlocked country is a paradise for rock climbers, mountaineers and tourists seeking adventure. The Hindu as well as Buddhist heritage of this beautiful country, makes it a favourite holiday destination.
Nepal provides a detailed insight into its rich history and culture through its monasteries and temples. A mesmerising country with fantastic trekking opportunities and adventure sports, Nepal has something for every kind of tourist. Additionally, Nepal is popular among the tourists for its numerous local sightseeing options. Offering tourists a plethora of things to do, booking Nepal Tour Packages from Kolkata can be an informed travel decision.
Nepal Tour Packages: Inclusions
Cosy, convenient accommodation at top-rated hotels
Great room service with modern amenities
Hygienic, delicious meals
Sightseeing as per trip itinerary
Boat ride at Phewa Lake, Pokhra
Good hospitality
Complete tour management
Nepal Tour Packages: Exclusions
Entry fees to monuments, museums and other places of interest
Any meal or food not specified in the package
Personal expense like phone calls, laundry, shopping, drinks, etc.
Any other item not specified in the above 'inclusions' section
Dos And Don'ts To Keep In Mind When Travelling To Nepal
Make sure you use both of your hands when receiving or giving something - it's gesture of respect
Do walk clockwise around the stupas, so that the outer walls are always on the right. Even if you encounter a stone wall covered with Tibetan inscriptions, ensure you do the same.
Never take photographs of holy shrines, temples and the locals without seeking their permission.
Make sure you take off your shoes when entering a monastery, temple or home
Avoid smoke in scared sites and public places
Wear scant dress in religious places is a must and women should avoid wearing skimpy outfits
Never eat beefs in front of Buddhist and Hindus since it is strictly forbidden here.
Carry your own essential medicines since not all medicines are easily available in Nepal
Shouting or raising your voice is considered bad manners in Nepal
Never touch anything with your feet when travelling in Nepal since Nepalese consider it as an offence
Our Services Includes:
Accommodations in top-quality resorts and hotels
Breakfast and other facilities
Transportation
Comprehensive tour management
Memorable sightseeing
Why Should You Choose Our Nepal Tour Packages:
All-inclusive Packages
Guaranteed Client Satisfaction
Whatever you need during the trip, we will provide
Ensure beautiful sightseeing and other activities
Affordable Rates
When Is The Ideal Time To Opt For Nepal Tour Packages?
The fall season or the period from October-November is the perfect time to book Nepal Tour Packages from Kolkata. The clear skies and sunny days make these months the best time to explore Nepal.
What Are The Best Things To Do During Nepal Tour?
Trekking the majestic Himalayas
Soak up the rich culture in Kathmandu
Go white-water river rafting
Experience the unique backpacker vibe in Thamel
Take up adventure sports
Nepal Tour Packages: Common FAQs
Q. Is Nepal Safe For Travelling Solo?
A. Yes, travelling alone to Nepal is safe! Nepal is regarded as one of the safest countries in the world for travelling solo. Even if you are a solo female traveller, there's nothing to worry. This is because; Nepali men are respectful towards the women owing to the religious nature of the country.
Q. Do Indians Require Visa For Visiting Nepal?
A. No, Indian nationals do not require visa for travelling to Nepal. The Indo- Nepal Treaty of Peace, 1950 allows both Indians and Nepalese to enter and exit the countries freely. However, Indians visiting Nepal are required to carry at least one of the following documents-
A valid Indian Passport
A photo ID card issued by the Govt of India
Election ID card issued by the Election Commission of India.
Q. What Are The Must-Have Food And Beverages In Nepal?
A. Nepali food is very delicious and hygienic. Ensure you try famous Nepali cuisine like-
Momo
Daal Bhat Tarkari
Samay Baji
Yomari
Kwati
Chatamari
Aloo Tama
Enjoy Your Trip!