Sikkim Silk Route Tour Packages & Plan
Silk Route Tour Package Covers Main Attractions of Sikkim
Is your holiday approaching? Are you planning to make it unique from every possible extent? Taking a trip to your favourite destination will surely make your holiday as special as you always wanted it to be!
We, at Naturecamp Travels, offer first-rate Silk Route tour package and promise to make your trip an unforgettable one!
The Silk Route in the State of Sikkim is an ancient trade root which is derived from Lhasa. Its exquisite scenic beauty and comfortable climate have made the place a hot-favorite destination among a plethora of travelers coming from different corners of the world.
About The Old Silk Route In Sikkim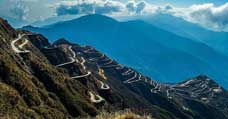 The Old Silk Route in Sikkim is one of the offshoots of the ancient Silk Road, which was once a long and wide network of trade avenues. This Silk Road had been part of a cultural or social amalgamation that encompassed various regions of Asia and connected the East and West of India, China, and Pakistan across the Mediterranean Sea. The part that passes through Sikkim connecting India and China via the Nathu La, Lhasa and Jelep La Pass, reaches Tamralipta (now known as Tamluk) in West Bengal. It is believed that this road was chanced upon by traders in the First Century AD itself! From here, the Silk Road connects to the sea in the east. The road extends more than 6,000 km and was once used for extensive trade of copper, gold, sugar, cotton, salt, tea, horses etc. Did you know that this is the first information superhighway in the world? Today, however, the traders have bid adieu. The next time you make a Silk Route Sikkim tour plan, don't forget to cherish the boundless beauty of the roads that have borne witness to perhaps more than millions of trade deals. But the rhododendron-filled, snow-clad paths still welcome you with open arms. You can rest assured that the experience will be once-in-a-lifetime.
List of Travel Destinations To Visit in Silk Route Tour
Enjoy The Charm of Silk Route, Zuluk, Nathang, Nathula, Lunthung & more In the Following Tour Plans:
The dazzling sightseeing attractions for the day include:
Thambi
S Ganek
Silk Route trail
Gnathang Valley
Kalpokhri
Tukla Valley
Kupup
Old Baba Mandir
Jelep-La-pass view point
...and many more
4 Nights / 5 Days:
Day 1: Pic Up from Bagdogra and transfer to Silerygaon.Night Stay at Silerygaon.
Day 2: After Brekfast transfer to Rongli for Silk Roite Permit and Finaly transfer to Zuluk.Night stay at Zuluk.
Day 3: Full Day sightseeing Include Gnathang ValleymKupup Lake,Tukla Valley and night stay at Gnathang.
Day 4: Transfer to Ramdhura,A new destination of Sikkim Silk Route.Night stay at Ramdhura.
Day 5: Transfer to NJP or Bagdogra.
4 Nights / 5 Days:
Day 1 : Pick up from Bagdogra Airport/ NJP Railway Station and transfer to the Sillery Gaon. Overnight stay at the Sillery Gaon.
Day 2 : Morning Trek to amity View Point. After doing the breakfast move for Zuluk, covering Mankhim Top, Kuekhola Water Falls, Rangli, Nimachen, Lingtam, Padamchen. Overnight stay at the Zuluk.
Day 3 : Early morning Start for Sunrise to witness the changing colors on Mt. Kanchenjungha & Himalayan Range from Ganek or Thambi View Point. After doing breakfast, we will start for Silk Route Trail to reach Lungthung Valley covering Ganek, Adi Baba Dham, Thambi View Point, Kupup, Tukla Valley, Elephant Lake, Golf Course, Jelep La Pass View Point and overnight stay at the Gnathang.
Day 4 : After breakfast check out from the hotel and transfer to the Bidyang. Overnight stay and enjoy at Reshikhola.
Day 5 : After doing breakfast check out from the hotel and transfer to NJP station/ Bagdogra Airport for return/ onward journey.
5 Nights / 6 Days:
Day 1 : Pic Up from Bagdogra and transfer to Silerygaon.Night Stay at Silerygaon.
Day 2 : After Brekfast transfer to Rongli for Silk Roite Permit and Finaly transfer to Zuluk.Night stay at Zuluk.
Day 3 : Full Day sightseeing Include Gnathang Valley,Kupup Lake,Tukla Valley and night stay at Gnathang.
Day 4 : Transfer to Aritar and Night Stay.
Day 5 : After Brekfast transfer to Ramdhura and Night Stay.
Day 6 : Transfer to NJP/Bagdogra.
7 Nights / 8 Days
Day 1 : pic up from NJP/Bagdogra and transfer to Icchey gaon. Night Stay.
Day 2 : Transfer to Mankhim/Aritar,Night stay.
Day 3 : After Brekfast transfer to Padamchen,Its new destination of Silk route.Night Stay at Padamchen.
Day 4 : Early Morning Visit Zuluk,Kupup,Gnathang Valley,Tukla Valley and night stay at Gnathang Valley.
Day 5 : Transfer to Gangtok Via Old and Nre Baba Mandir,Changu Lake.
Day 6 : Gangtok Local Sightseeing and Night Stay.
Day 7 : Visit Nathula, and Night Sray at Gangtok.
Day 8 : Transfer to NJP/Bagdogra.
When To Visit?
The best time to visit the ancient Silk Route in Sikkim would be in the month of March. Now that this picturesque route has been reopened, there are plenty of mesmerising sights to witness along it, and March is definitely the ideal time to pay a visit.
Places to stay:
Once you contact us at Naturecamp Travels, you don't have to worry about staying accommodations. As we have been running this business for a considerable period of time, we have developed a number of good contacts and getting your desired hotel will just be as easy as taking a candy from a baby!
No matter whether you are looking for deluxe hotels or lodges of medium budget, we help you cut the ice. We will present a number of options in front of you and based on your choices, you can opt for any particular preference.
The Hotels We Provide Are Best Known For The Following Reasons:
There will be all kinds of amenities any traveler pines to have! We provide the standard accommodation.
Irrespective of where you go, the easy availability of food is what makes you extremely tensed and apprehended. We make sure you are left with no inch to reap any sort of grievances against us.
Every hotel we provide comes with standard dining facilities as well. You don't have to go anywhere else to hunt for your favorite dishes. You can get your best dish under the same roof only!
Also, the attendants in the hotels are considerate and caring enough to give you the best value for your money.
Precautions To Be Measured Before Tour-
Some essential things like fleece jackets, socks, sleeping bags, warm hat, light gloves, torch, folding tents etc. must be carried.
You never known when your stock ends up! Thus, you should also carry extra store of, chocolates, dried fruits, nutrients, electrolytes etc. Along with providing energy, they will meet your hunger too.
Some mandatory medicines like paracetamols, ingestion and anti vomiting tablets, band-aids, lip balms, sun screen with SPF, anti septic cream, moisturizer etc. should always be carried without any fail.
Few Points to Keep In Mind before Visiting Old Silk Route Sikkim
Most important thing to keep in mind is that never expect luxury accommodation during travelling Silk Route Sikkim. You cannot expect luxury meals, facilities etc. there as it are remote destination and mountainous area.
Carry good amount of woolen garments, sweaters, gloves and caps to protect you from the cold.
Suggest not staying at high altitude area if you are travelling with children and elderly person as it will create headaches, dizziness and vomiting among the aged and children.
Carry transparent glasses, sun glasses, torch, power bank, gas lighter, small knives and necessary items with you. Also carry first aid box etc.
Carry Original and Photocopy of Id Proof like Votar ID Cards including passport size photograph for Silk Route Permit. Need to carry Birth Certificate or ration card in mandatory for minor too.
Carry enough cash with you as ATM's service is not available due to out of cash or link.
Do not throw plastic bags and don't demand luxurious items. Always try to keep the surrounding place clean.
For smoker, try to avoid public areas as smoking is strictly prohibited in Sikkim. If you want you can carry own liquor with you as liquor shop is very limited during Silk Route journey.
Waste No Time of Yours to Contact Us:
The sooner you will contact us, the quicker we will plan an exclusive package for you! Call us at 9874439571 and we will be happier to come to your swift aid!
Enjoy Your Trip!
Reviews:
Arojit Debnath
★★★★★
"Nice experience travelling with them. Silkroute Tour Packages I opted from them was very affordable with satisfactory. Their arrangements of accommodation and convenience is very please full. Thanks a lot to owner of this agency Mr Saibal sir for organising such a good tour."
Debajyoti Roy
★★★★★
"Our Silk Route tour was excellent, thanx a ton to Nature Camp. Specially 'Banalata' home stay at Rishikhola & 'Potala' home stay at Padamchen were very pleasant property to enjoy those place. Also 'Hilltop' home stay at Lungthung was very nice. Carry on Nature Camp!"
Aniruddha Banerjee
★★★★★
"Extremely hospitable service. Customer friendly and accomodating to the utmost. The entire trip went without any hiccups. Welcome experience."