Best Bhutan Tour Packages from Mumbai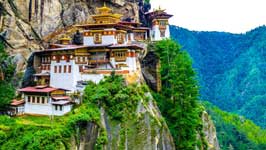 If you are planning for Bhutan tour for upcoming season, choose Bhutan Tour Packages from Mumbai at Naturecamp Travels. We are one of the best tour operators and offering complete tour package and travel guide for Bhutan.
Bhutan Tour Packages - 3 Night/ 4 Days, 4 Night/ 5 Days, 5 Night/ 6 Days, 6 Night/ 7 Days & 8 Night/ 9 Days
When To Visit
The Land of the Thunder Dragon can be visited at any time of the year depending on your preference. October to December is perhaps the best time to go there, but the individual seasons of winter, summer, spring and autumn are all worth experiencing at least once each.
Enjoy Your Trip!